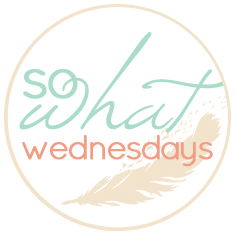 Linking up with Shannon again today for So What Wednesday
So What if:
-I cried at my desk yesterday
I was upset and felt like I was being attacked (not work related)
why didn't I get a bottle of wine?
-I was half an hour early for work today only because I woke up early to get munchkin ready for picture day
I normally wake up with about 15 minutes to get ready and be out the door
This means I'm almost always late.
-I'm more excited about tomorrow than Friday
Details to come later.
-I'm crazy excited to have hit 50 followers
even if they are just from the giveaway
Hellluurrrr!!!!
-I hope that said follower stick around even after the giveaway
I think I smell a giveaway of my own soon
I'll be like Oprah!
Only I won't be giving away bees.
That would be terrible.