Linking up today with Shannon from Life After I "Dew" for So What Wednesday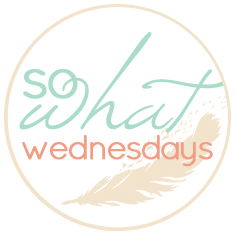 So what if:
-I didn't have a post yesterday
I had real work to do people. And a book to read. And a paper to finish. And a book to read, did I mention that part?
-
I haven't run in almost two weeks
this is actually terrible. I have a race in a month...what am I doing?
-I submitted my paper two days late
oops?
-I did a little happy dance when I found out one of my friends
finally
broke up with her bf
It was a toxic relationship. As in, Chris Brown and Rhianna toxic. Don't judge me.
-Hailey was wearing her snowman apron while we were baking cookies
Who cares that Christmas has been over for months. We still talk about how Santa's watching everything.
Welp, that's all for today folks.
Off to read more blogs, and another book (yes I read an entire book yesterday, don't judge me), and maybe even get some real work done today.