A few weeks ago, Marcia from
Year: Twenty Nine
held a giveaway to celebrate reaching 50 followers.
If you haven't met her yet, and by met her I mean found her incredibly awesome blog, you should go check her out. She rocks the casbah. Her her off the cuff, not afraid to speak her mind manner makes me giggle. Click the button...dooo eet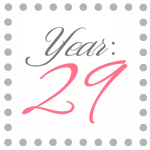 Myself and two others entered her giveaway, and because she's just freakin' awesome, she decided that we should ALL win!
Well, I got home last night and found this at my front door.
Hells to the yes! Color me excited
(Doesn't she have awesome handwriting?! I wish mine was half as nice)
Opened it up and this was inside
Marcia, you're the best!!!!
I brought the pita chips and one of the tea bags to work and have already formed an unhealthy bond with the chapstick.
And I may or may not have slid around my house (tile floors) with those socks on.
If you don't follow her blog, you should!!!
Check out the social media here:
Facebook
,
Pinterest
,
Instagram
and
Twitter
.